Legal and Socio-cultural History
        The Municipality of San Lorenzo started its official operation last August 16, 1995 with a temporary office at the Barangay Hall of Brgy. M. Chavez which lasted until August 1996. The first sets of municipal officials were appointed by then President Fidel V. Ramos as follows:
Hon. Arsenio B. Zambarrano
Sangguniang Bayan Members
Hon. Carmelina G. Fernandez
Hon. Constantino T. Cordero Jr.
Hon. Matternick G. Quezon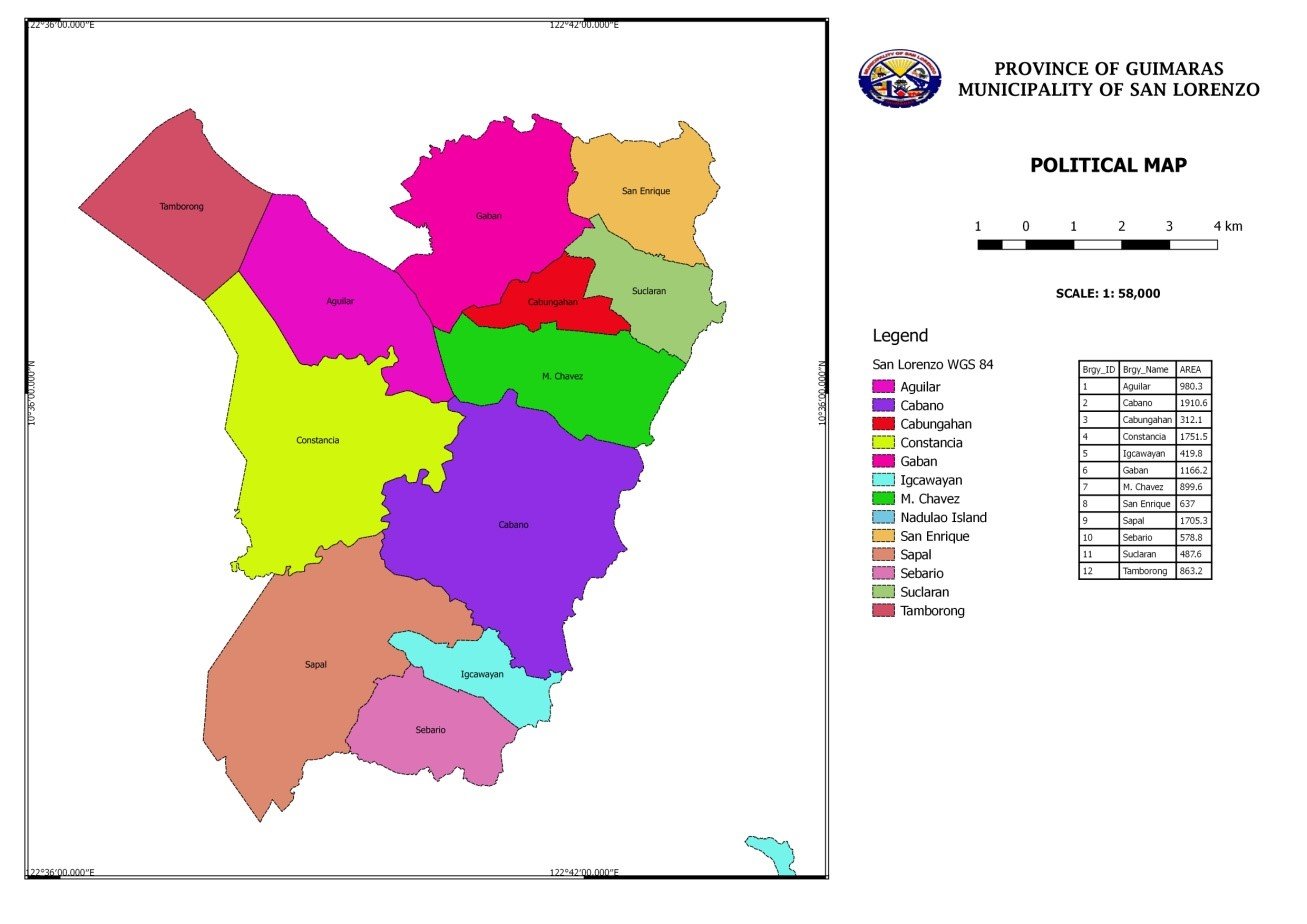 Hon. Rolando T. Gadnanan opted to stay with the Municipality of Buenavista and was replaced by Arnulfo G. Tanaleon.
A temporary Municipal Pavilion was constructed to house the different offices of the Local Government Unit of San Lorenzo. Detailed personnel from the Provincial Capitol were assigned to important functions for the LGU to operate. Appointments were issued starting April 1996.
A ten-hectare site was donated by the Locsin family in the landed estate of Barangay Cabano, thus the official seat of government of the Municipality of San Lorenzo is in Barangay Cabano. It is strategically located in the hilly portion with excellent panoramic views of surrounding places and overlooking the glittering lights of the cities of Negros Occidental during night time.
Many needed appointments were subsequently issued to important positions in CY 1997. Later, a two-storey Municipal Hall was established and was functional in December 1998.
As the years passed, several structures rose including the Municipal Health Center, the Municipal Agriculture Office, The Municipal Training Center and the Senior Citizen's Building. At the barangays, Health Stations were constructed through different sponsored projects like the Integrated Community Health Services or the ICHSP. Elementary school buildings were given emphasis for improvement under the Third Elementary Improvement Project of the (TEEP) while the secondary schools received numerous improvements with the Secondary Schools Development and Investment Project or the SEDIP. These projects were made available to the Province as beneficiary because of its membership with the Club 20 or the twenty poorest provinces in the Philippines thru the effort of then Congressman Emily R. Lopez.
San Lorenzo is a fifth class municipality. It is one of the two youngest municipalities of five municipalities of the Province of Guimaras. The municipality was created last February 20, 1995 by virtue of Republic Act 7897 together with the Municipality of Sibunag. The new municipality acquired its municipal status after May 8, 1995 plebiscite held simultaneously with the local election.
Accordingly, San Lorenzo got its name from the first Filipino saint, San Lorenzo de Ruiz. This Municipality got seven barangays from the Municipality of Jordan (Cabano, Aguilar, Sapal, Constancia, Tamborong, Sebario and Igcawayan). Five barangays emanated from the Municipality of Buenavista (Gaban, Cabungahan, M. Chavez, Suclaran & San Enrique (Lebas).
Now on its almost 20th year of operation, development are visibly seen in the Municipality of San Lorenzo like the recent 54 Megawatt Wind Farm Project believed to uplift this developing municipality's economic status. 
The following are officials of the Local Government Unit of San Lorenzo who were elected to efficiently run and manage its operation for 2013-2016: